There are so many different types of dress shirts for men that are available on the market. They will all have a long list of unique features and benefits. So what is the most important aspect? Where do you start? Well - first you have to check the fundamentals. When it comes to fabric - if you're shopping for dress shirts, it is clear that you need to opt for 100% cotton!
In this article, we will take you through our reasoning and explain why 100% cotton shirts for men are the best. And why you should focus on these next time you need a new dress shirt, instead of a shirt made from synthetic materials and fibres.
What Does 100% Cotton Actually Mean?
We are sure that we have all heard about 100% cotton shirts and other types of clothing. But what does 100% cotton actually mean?
When something is made with 100% cotton, that means that the article of clothing is made from natural cotton fibres only. 100% cotton fabrics comes in different types depending on how the textiles were manufactured and their weight for example. Some common types of cotton fabrics you may be familiar with are:
- Cotton Lawn
- Cotton Jersey
- Cotton Poplin
- Chambray
- Brushed cotton
- Cotton drill
Unlike synthetic fabrics, there are no other materials or synthetic fibres involved in the manufacturing process, which results in a soft cotton fabric. This can be an important factor, especially to those consumers who are looking for an all-natural product.
Cotton Fibres Are Completely Natural
Cotton is a natural fibre that comes from the cotton plant. Once the cotton is ready, it is harvested, collected, processed by gins and then spun into a yarn that then is used to weave or knit a fabric.
Most of the worlds cotton is grown in warmer climates and in countries like the United States, Uzbekistan, China, and India. Other countries that have a big cotton production are Brazil, Pakistan, and Turkey.
A 100% Cotton Shirt is a Natural Cooling System for Your Body!
One of the main benefits of 100% cotton shirts is that they are both soft, absorbent, and breathable. The fact that a 100% cotton shirt is breathable does not only help to control moisture but also absorbs the sweat your body produces throughout the day. This particular feature makes cotton shirts for men the number one priority and a must have during the warmer months of the year.
Did you know that a cotton shirt can absorb up to 27 times its weight in water, making it excellent in providing thermal insulation and making sure there's no buildup of moisture on the body, keeping it fresh and cool.
In simple words, the natural moisture wicking properties of 100% cotton shirts will keep you cool and comfortable, making them ideal to wear in hot weather.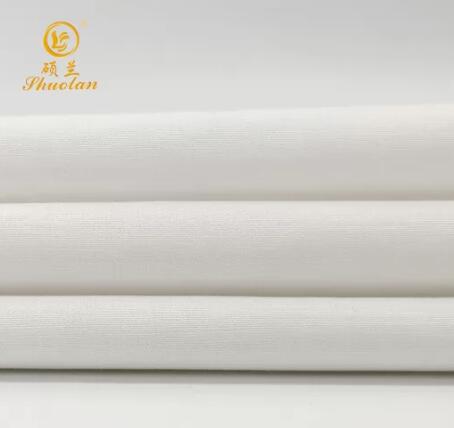 Cotton is Gentle and Kind to Your Skin
Whether you're in the office or at a wedding - wearing a dress shirt for a longer period of time, you will want the fabric to be soft and gentle on your skin. This is even more important if you have allergies or sensitive skin.
One of the main benefits of cotton and clothing made by cotton is that it is a good choice for people with allergies and sensitive skin. This is due to its breathability as well as the fact that it does not cling to your skin, like synthetic materials can do. This reduces friction and irritation.
Another great feature with cotton is also that allergens like dust, pollen, and pet dander does not stick to it the same way it sticks to synthetic fabrics. So, if you are planning a spring walk in the park, and you are sensitive to pollen and often get hay fever, make sure you wear a 100% cotton shirt!
Cotton Fabric Does Not Trap Bad Smell
When you are out at a restaurant, cooking dinner or maybe sitting around a campfire, different odours are bound to get soaked into your clothing. The problem with synthetic materials is these odours tend to stick, even after you have washed the garment. This won't happen to a dress shirt made with cotton. When you put your cotton shirt through your laundry machine, the material releases odorous substances more easily than other fabrics!
Cotton Is Durable and Can Last Many Years with Proper Care
The fibres in mens shirts made by cotton are strong and can resist wear and tear. With other kinds of fabrics, it has been seen that a few washes degrade the quality. However, the durable fabric of cotton clothes is much stronger and longer if it is being washed in the right and recommended way.
We are a 100% COTTON Shirt Fabric supplier. If you are interested in our products, please contact us now!